Golden Sneaker Contest
The Alameda County Safe Routes to Schools team is pumped to announce that our 2022 Golden Sneaker Contest is happening February 28th – March 11th, 2022! During this well-loved event, Alameda County students, classrooms, and schools will participate to see who can walk, roll, carpool, and/or use public transit the most.
Register here by February 4th to participate.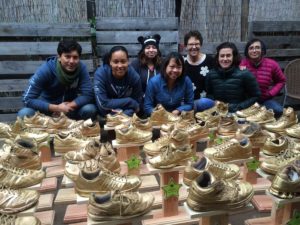 What is the Golden Sneaker Contest?
The Golden Sneaker Contest is a classroom challenge that encourages students, parents, teachers and administrators to take healthy modes of active and shared transportation options, such as:
Walking
Biking
Rolling in a wheelchair or mobility device
Skateboarding or using a scooter or any other human-powered wheels
Riding public transit like AC Transit or BART
Carpooling with a family besides your own
How Does the Virtual Golden Sneaker Contest Work?
Students and teachers in each class keep track of their active and shared travel from the day with a simple tally chart. At the end of the week, the class with the highest percentage of participation will receive participant incentives!
Safety Tips
Here are some tips for students and families to keep in mind while participating:
Covid-19 Safety Tips
Always maintain a 6-foot distance from others if you do not live with them while you are walking or rolling.
If a six-foot distance is unavoidable when you're outside, wear a mask. Wearing a mask is encouraged, even if you are outside and if other people are not nearby.
Avoid touching items, like handrails and door handles, when you are out walking and rolling.
If you touch something, either use hand sanitizer or, when you are back at home, wash your hands.
Avoid touching your face.
Walk and roll in non-crowded places to maintain physical distance.
For more information, visit the Alameda County Public Health Department.
Winter Walking and Rolling Reminders
Colder weather doesn't have to mean being less active! On most days, the weather is mild enough to walk and bike outside. Dressing properly with layers and bright clothing can extend walking and rolling throughout winter. Here are a few tips for cooler weather days:
Remember that it's hard for people driving to see people dressed in dark colors. Always assume drivers cannot see you, or are not paying attention. Wearing bright or reflective colors can help.
Wear waterproof rain gear if it's raining! And don't forget your umbrella and rain boots.
Dress in layers – it will help warm you up quickly when walking and rolling.
Wear hats, hoods, or headbands to cover the neck and ears (under the helmet when biking) and full-fingered gloves. If the weather is windy, wear a wind-proof jacket.
If you are a parent riding a bike with your child, make sure to ride slower. The roads may be slick, and you may need to brake sooner.