Golden Sneaker Contest
We are getting excited for the 2020 Golden Sneaker Contest! The Golden Sneaker Contest is a fun way for schools in Alameda County to encourage students to choose healthy travel options to school for a couple of weeks! To learn more on how to participate, please check out the 2020 toolkit.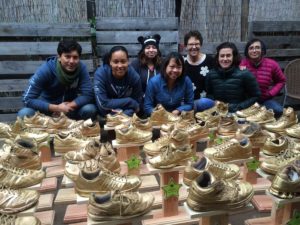 What is the Golden Sneaker Contest?
The Golden Sneaker Contest is a two-week classroom competition that encourages students, parents, teachers and administrators to take the healthy route to school by choosing active or shared transportation options such as:
Walking
Biking
Skateboarding, or any other human-powered wheels!
Carpooling with other families at your school, or
Riding public transit — like the bus or BART
How Does the Golden Sneaker Contest Work?
Students in each class keep track of their active and shared travel to school each day with a simple tally chart. At the end of the two weeks, the class with the highest percentage of class participation will receive the Golden Sneaker Award — a trophy made from shoes donated by the Golden State Warriors — and a classroom prize.