Golden Sneaker Contest
The Alameda County Safe Routes to Schools team is pumped to announce that our virtual 2021 Golden Sneaker Contest is happening March 1st – 5th, 2021!  During this fun event, Alameda County students, classrooms, and schools will compete to see who can walk or roll the most. 
Register here by January 29th to participate.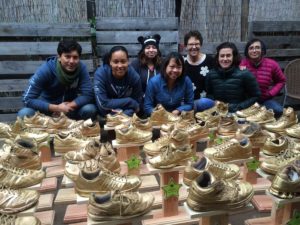 What is the Virtual Golden Sneaker Contest?
The Virtual Golden Sneaker Contest is a week-long classroom competition that encourages students, parents, teachers and administrators to take the healthy modes of active and shared transportation options, such as:
Walking
Biking
Rolling in a wheelchair or mobility device
Skateboarding or using a scooter or any other human-powered wheels
Carpooling with other families at your school, or
Riding public transit like AC Transit or BART
How Does the Virtual Golden Sneaker Contest Work?
Students and teachers in each class keep track of their active and shared travel from the day before with a simple digital tally chart. At the end of the week, the class with the highest percentage of participation will receive participant incentives!