Bike to the Moon Week, Monday, May 10 – Friday, May 14, 2021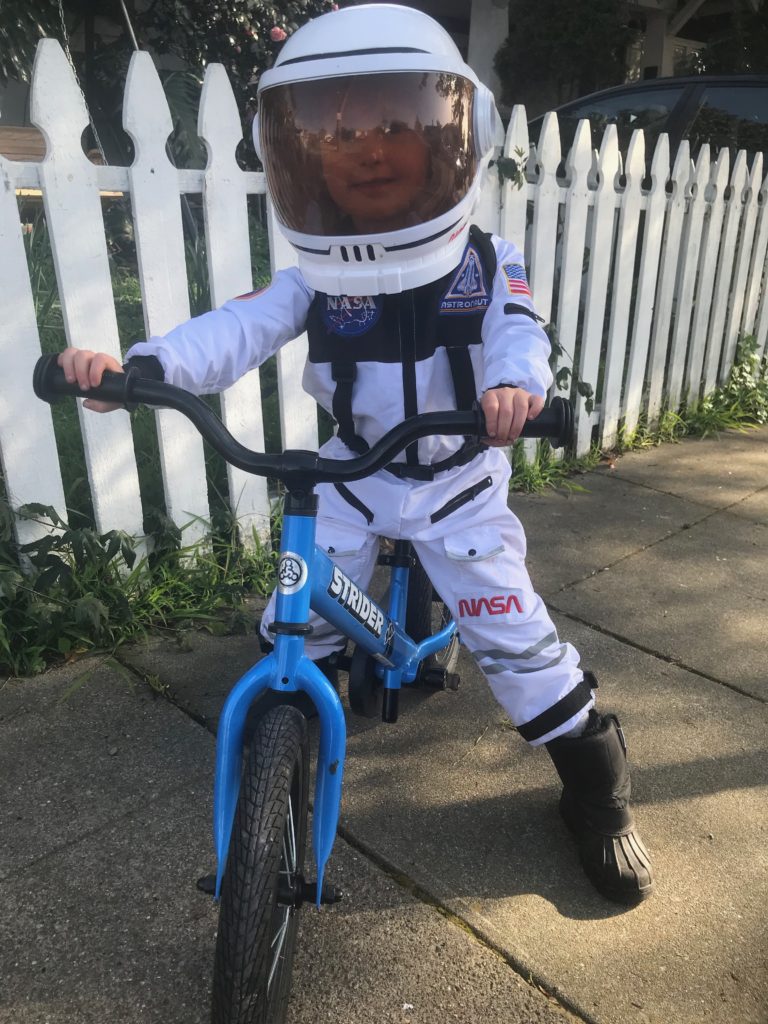 Final Bike to the Moon Week Mileage
Thanks to everyone for making our first ever Bike to the Moon Week a success! From May 10th-14th, students, families, and school staff tracked their miles and minutes of activity with the goal of "biking" all the way to the moon, which is 286,900 miles away! Activities included biking, walking, rolling, and taking transit; learning about bike safety also qualified as a way to earn "moon miles."
Our final moon mileage shows that we traveled 1,037,258 moon miles, enough to make it to the moon and back almost twice! Here are a few more details about our journey:
Students from 58 schools participated

There were 2,401 total participants, including:

2,217 students

13 community members

107 parents

64 teachers (some teachers participated on behalf of an entire class)
Thanks to everyone who helped us reach the moon!
We are thrilled to announce the winners* for the award drawings:
Wilson Lung, Blacow Elementary

Chitkarsh Mishra, Parkmont Elementary

LaTisha Rodriguez, EM Grimmer Elementary

Addison Lara, Edison Elementary School

Vinush Aravindhan, Grimmer Elementary School

Carrie Williams, Sunset Elementary
*Additional winners wished to remain anonymous.
"I liked that it was fun and I got to explore places I've never been on my bike!," said Addison Lara of Edison Elementary School.
Chitkarsh Mishra of Parkmont Elementary School said she is very excited about winning a prize: "I am going to buy something for myself and my sister, because she taught me how to bike."
The Safe Routes to Schools Program was also thrilled to have two Alameda County Transportation Commissioners join the fun: Commissioner John Bauters and Commissioner Pauline Russo Cutter each led a Safe Routes Storytime during Bike to the Moon Week. Click here to see a video of the commissioners reading.
Thanks to everyone who participated, and keep riding!
What is Bike to the Moon Week?
In celebration of Bike Month in May, the Alameda County Safe Routes to Schools Program will host Bike to the Moon Week, a week-long virtual event from Monday, May 10 to Friday, May 14, 2021. During the celebration, students, families, and school staff are invited to track your miles and minutes of activity with the goal of "biking" all the way to the moon, which is 286,900 miles away! You can do this by biking, walking, rolling, taking transit, or learning about bike safety.
The Alameda County SR2S Program will provide all the necessary event materials free of charge to each school that registers by April 16th, 2021.
Who Can Participate? (Sneak peek: Everyone!)
This event is open to all schools enrolled in the Alameda County Safe Routes to Schools Program. We encourage everyone in your school community to participate, including students, teachers, champions, and administrators! We also encourage neighbors and community members to join in on the fun. 
If your school is not enrolled in the Alameda County Safe Routes to Schools Program, or you don't go to school, you can sign up here to participate in Bike to the Moon Week. If you're not sure, reach out to us at info@alamedacountysr2s.org.
How Can I Track My Miles and Minutes?
We know that 286,900 miles is a long distance to travel – we can make it with your help! To get us to the moon, we will convert all activity, minutes or miles, into "moon miles" using the Mileage Tracking Form. You don't have to worry about doing the conversions – the Mileage Tracking Form will automatically do it for you. If you are curious, we are using the following conversions:
1 mile of biking = 50 moon miles

10 minutes of biking = 50 moon miles

10 minutes of another physical activity (walking, scooting, skating, taking public transportation) = 50 moon miles

1 post on social media about the event, with #IBikedToTheMoon = 50 moon miles

Attend 1

online education event

* = 100 moon miles
*Online educational events include a BikeMobile visit, Safe Routes to Schools storytime, Bike rodeos, Pedestrian rodeos, Go Green presentations, and more!
During Bike to the Moon Week, you will fill out your own mileage tracking form. You can enter how many miles you biked, or how long (in minutes) of other physical activity you completed. You can also let us know if you participated in an online educational event. There is no limit to the number of activities you can submit. You can submit your moon miles through the Mileage Tracking Form each day, or all at once. Just make sure that you don't double-count your activities.
Key Tracking Forms Dates
Tracking Form Opens: Monday, May 10 at 7:00 am PST

Tracking Form Closes: Monday, May 17 at 5:00 pm PST –

Be sure to enter all your miles and minutes by then!
Prizes
Participating students will receive a reflective sticker for your helmet or bike. Students will also receive a digital picture frame that can be used on social media. Participating students and teachers will be entered into a countywide drawing for a grand prize.
Have questions?
If you have questions about the event, you contact us at info@alamedacountysr2s.org.
See you on the moon!