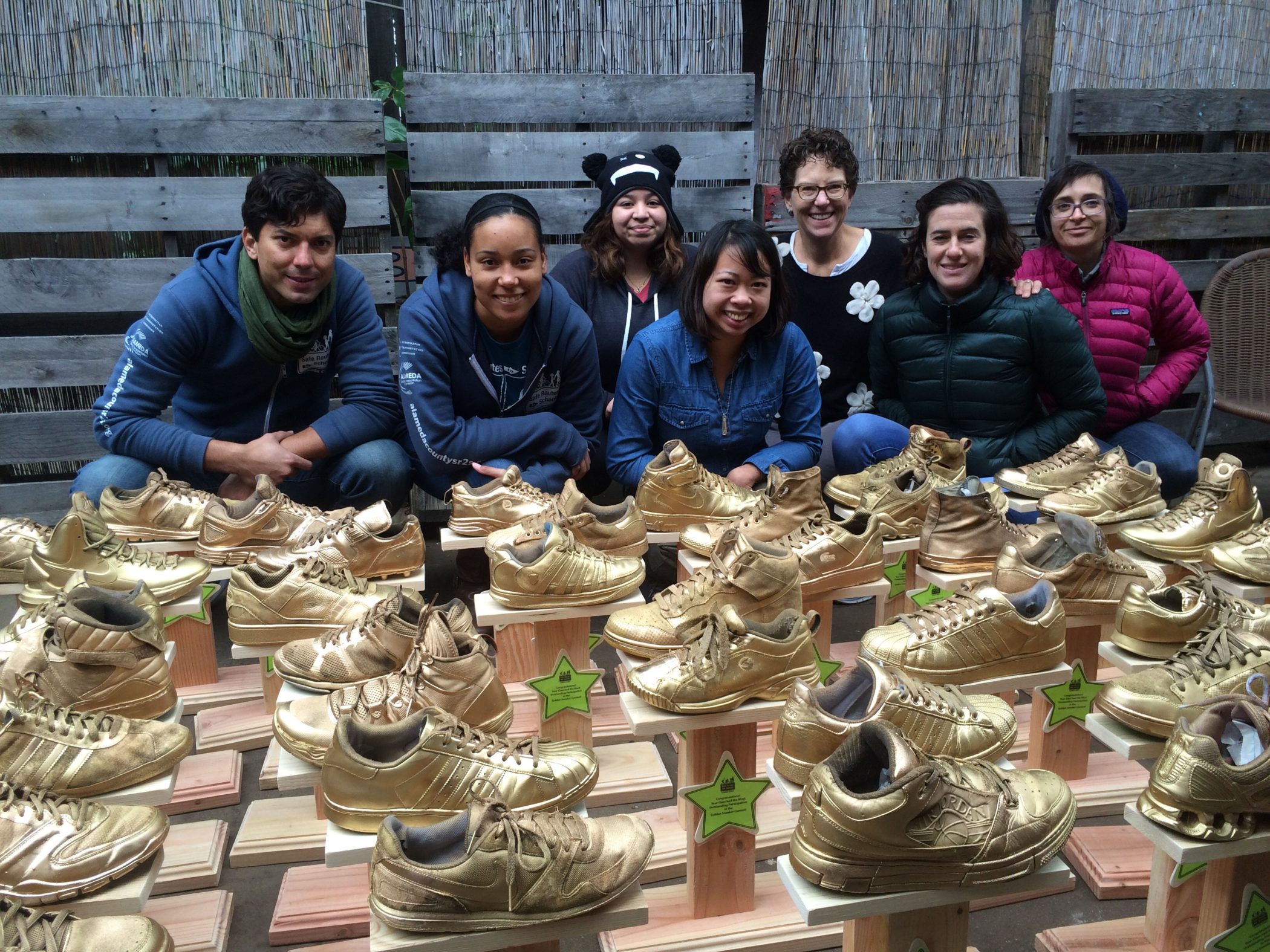 It's that time of the year again, when every participating classroom or school has the chance to win a one-of-a-kind Golden Sneaker Trophy. Today, the Alameda County Safe Routes to Schools staff got together to finish these glimmering trophies in time for the March festivity. After getting up early and finishing over 100 trophies, I caught up with Terry Farias, a Site Coordinator who has made trophies for three years to learn the steps involved.
"There are a few different phases. First, you collect donated shoes from your network. Then you cut the wood and screw three pieces together to form the [trophy] base, " he explained. "Normally on the day before, we assemble the base, but this year Brett Hondorp donated his time to cut and form the bases (s/o to Brett!). On the day of, we stuff the shoes with newspaper, then we spray paint the shoes a gold metallic color and let them dry for about an hour. Next, we center the sneaker on the base and screw the shoes into the wood by drilling through the sole. We nail a wooden star on the trophy and affix a laminated paper star on it. The paper star includes the program logo and a special trophy message." So there ya have it! Making trophies is an involved but rewarding task, and we are grateful for site coordinators and volunteers for their hard work.
For Stephanie Jim, a first year Site Coordinator, this is her first time making trophies and she said, "making the trophies was exciting. You see one trophy and it's been in our office, and you don't know the hard work in making the trophy. Going through the steps makes me excited for the event. I'm excited to seeing the faces of children light up when they receive the trophies."
Good luck to this year's participants! One critical aspect of Safe Routes to School is encouragement. An activity like the Alameda County SR2S' Pollution Solution Golden Sneaker Contest is a fun and inexpensive way to increase the popularity of active transportation. Alameda County SR2S had 69 schools registered last year. This year, 107+ schools have registered for the event. If interested in learning more, get in touch with your site coordinator or visit our Events page.