International Walk & Roll to School Day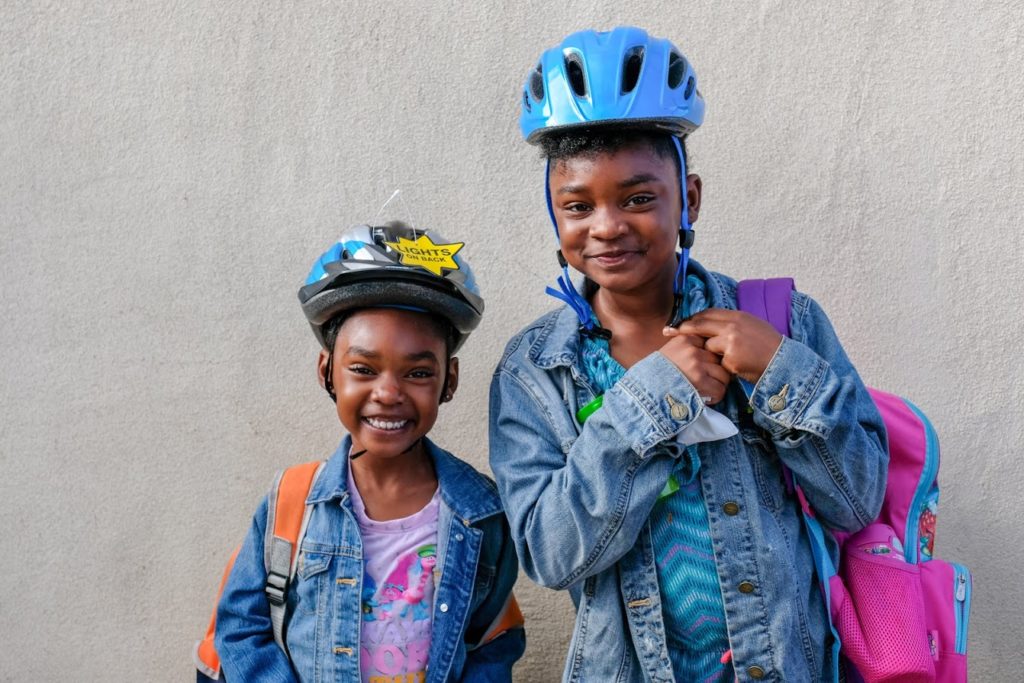 Every October, schools across the county–and the world–celebrate International Walk and Roll to School Day (IWR2SD). The celebration is designed to encourage students, families and the school community to roll, walk, bicycle, take transit, or use other non-motorized transportation to get to school.
This year, we'll celebrate IWR2SD on Wednesday, October 6, 2021. Throughout the day, students will share how they got to school by placing a sticker on our mode chart under the corresponding category that matches how they got to school. Participating students will receive fun giveaways and take part in a global event with students around the world.
This is the first of the "big events" that the SR2S Program runs throughout the year to encourage students, families, and communities across Alameda County to walk or roll to school.
Whether your students are new to walking and rolling or they have lots of experience, this is a great opportunity to make our streets safer, reduce traffic, improve air quality, and have fun exercising with our communities!
In-Person or Virtual IWR2SD
Due to COVID-19, schools can choose to participate in IWR2SD through an in-person event or a virtual event. Schools are welcome to select one of these options that fit their visitor policy, district learning requirements, and local public health guidance.
Remember to follow all COVID-19 public health best practices, such as masks and physical distancing, regardless of which option your school chooses.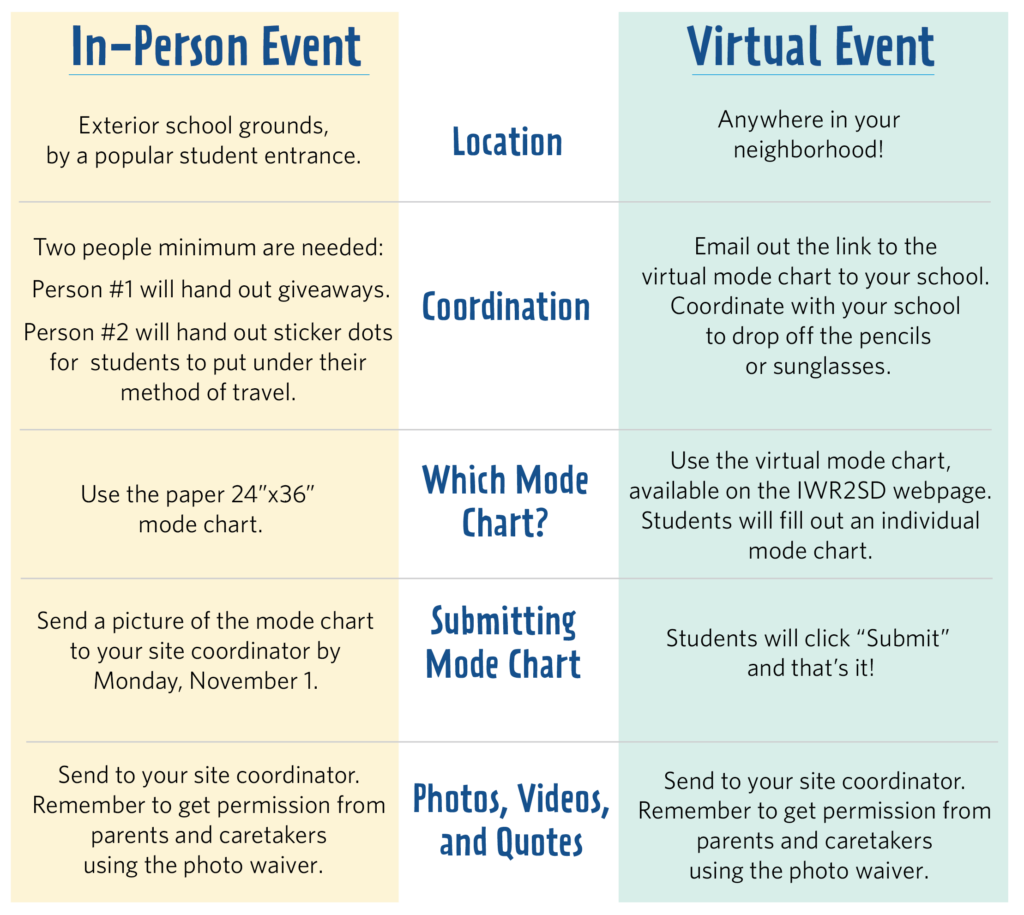 Reminder to send in all paper mode charts to your site coordinator by
Monday, November 1!
Virtual Mode Chart Links
If your school is participating in IWR2SD virtually, use these links to access the Virtual Mode Tracker Forms:
Schools who participate virtually will have each student fill out a virtual mode chart after walking or rolling in their neighborhood!
Why Should We Celebrate and Encourage Walking and Rolling to School?
In one generation, the number of kids walking and bicycling to school has dropped from 71% to 18%.
Transportation is responsible for nearly 40% of the Bay Area's harmful greenhouse gas emissions.
Seventy-five percent of California students are not able to pass basic fitness standards.
Travel to school accounts for approximately 21% of all morning traffic.
It is an easy way for children to get the recommended 60 minutes of daily physical activity.
Walking and Rolling Safety Tips
Here are some tips for students and families to keep in mind while walking and rolling:
Covid-19 Safety Tips
Always maintain a 6-foot distance from others if you do not live with them while you are walking or rolling.
If a six-foot distance is unavoidable when you're outside, wear a mask. Wearing a mask is encouraged, even if you are outside and if other people are not nearby.
Avoid touching items, like handrails and door handles, when you are out walking and rolling.
If you touch something, either use hand sanitizer or, when you are back at home, wash your hands.
Avoid touching your face.
Walk and roll in non-crowded places to maintain physical distance.
For more information, visit the Alameda County Public Health Department.