International Walk & Roll Week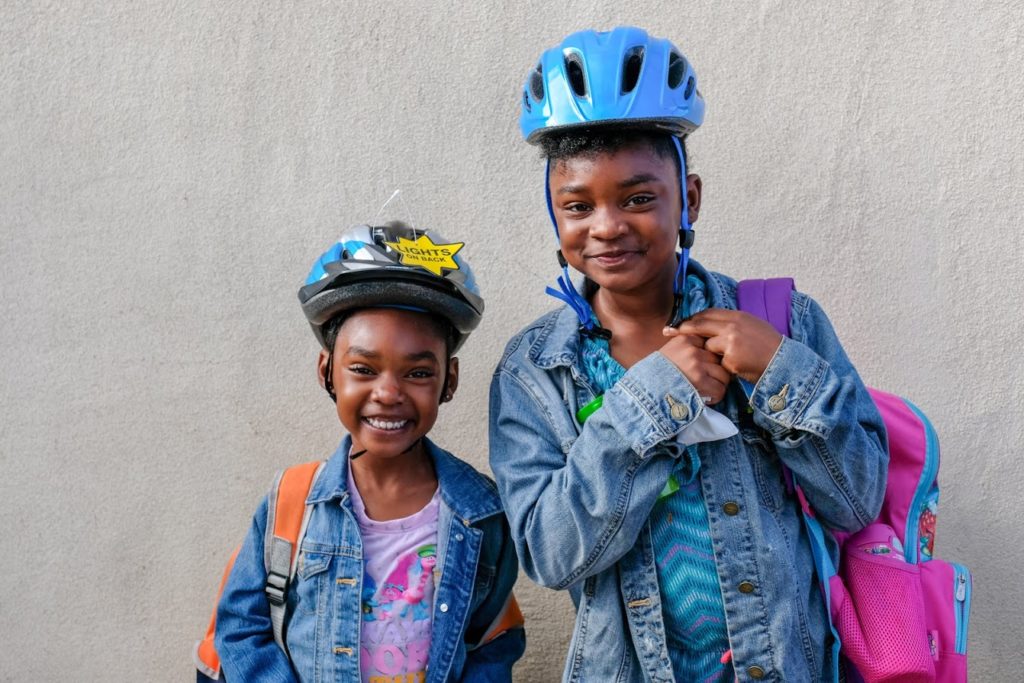 Every October, schools across the county – and the world – celebrate International Walk and Roll to School Day (IWR2SD). The celebration is designed to encourage students, families and the school community to walk, bicycle, or use other non-motorized transportation to get to school.
This year, we are celebrating walking and rolling for a whole week in Alameda County! From October 19 – 23, students across the county can participate in International Walk & Roll Week (IW&RW) in their neighborhoods in a safe and physically distanced way. This is a great opportunity to make our streets safer, reduce traffic, improve air quality, and have fun exercising with our families!
Whether you're new to walking and rolling or it's a tradition at your school, we have many tools to help make your event a success.
All the details you need are below!
Changes this Year
We know that many students are learning from home this fall, and won't be travelling to and from school. To reflect this new reality, Alameda County Safe Routes to Schools has turned IWR2SD into a week-long celebration. Students and families can participate in International Walk & Roll Week in their neighborhoods or at home. You can join for one day, or participate all week long.
All IW&RW materials for students and families are available online this year. All elements of this event will be fun, safe and physically distanced. That means everyone can still participate, whether walking or rolling are daily activities or new habits.
The IW&RW Passport
This year, we are introducing an exciting new way to get involved with IW&RW. Participating students and families will receive an International Walk & Roll Week Passport. Using this passport, they can track their walking and rolling throughout the week. The passport has a different theme for each day, so students can get creative and mark off each day and every method that they walk and roll. At the end of the week, students can submit the passport for a chance to win a prize!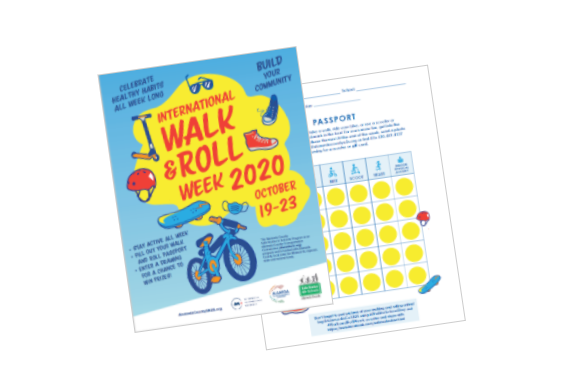 Students can access and submit the passport in three ways, but should only select one passport to use throughout the week:
The Paper Passport – Ask your school for a hard copy, or print it out. Students can submit it by sending a photo to info@alamedacountysr2s.org, or text a photo to 510-459-4137 at the end of the week.
The Virtual Passport – Download a digital version as a PDF. As students check off every day, remind them to save their progress! Students can submit it by sending it to info@alamedacountysr2s.org at the end of the week.
The Online Passport – Fill out a form to log trips at this link. This option requires students to log their trips every day. Students submit this passport by clicking "Submit" at the bottom of the page.
Students need to submit only one type of passport at the end of the week. Students must submit a photo or participate in the virtual passport to be entered into a drawing for the grand prizes. Students do not need to walk and roll every day to be entered into the drawing for a prize. Each school will have at least one winner, selected one week after the end of IW&RW.
How do I get a passport?
How do I use a passport?
How do I submit it for a chance at the grand prize?
Physical Passport
Ask your school for a flyer! The passport is

on the back.

Use a pencil or pen to mark off every day you walk, bike, skate, scoot,

or do an indoor activity.

Take a photo of your passport and email it to info@alamedacountysr2s.org

, or text the photo to 510-459-4137.

Virtual Passport
Download a PDF file of it on this page, under "Resources" on the right sidebar.
Click the circles where you walk, bike, skate, scoot, or do an indoor

activity.

Email your passport as a PDF file to info@alamedacountysr2s.org

.

Online Passport
Click here to log your walking and rolling

trips here every day.

Visit the online passport daily and click the check boxes for the activities you completed.
Click "Submit" at the bottom of the page.
Share the Fun!
Remember to post pictures of walking and rolling online! This can encourage participation throughout the week. Tag @AlamedaCoSR2S using #WalktoSchoolDay and #WalkandRollWeek on Twitter, and share photos on Facebook with https://www.facebook.com/saferoutestoschool.
Why Should We Celebrate and Encourage Walking and Rolling to School?
In one generation, the number of kids walking and bicycling to school has dropped from 71% to 18%.
Transportation is responsible for nearly 40% of the Bay Area's harmful greenhouse gas emissions.
Seventy-five percent of California students are not able to pass basic fitness standards.
Travel to school accounts for approximately 21% of all morning traffic.
It is an easy way for children to get the recommended 60 minutes of daily physical activity.
Walking and Rolling Safety Tips
Here are some tips for students and families to keep in mind while walking and rolling:

Covid-19 Safety Tips
Always maintain a 6-foot distance from others if you do not live with them while you are walking or rolling.
If a six-foot distance is unavoidable when you're outside, wear a mask. Wearing a mask is encouraged, even if you are outside and if other people are not nearby.
Avoid touching items, like handrails and door handles, when you are out walking and rolling.
If you touch something, either use hand sanitizer or, when you are back at home, wash your hands.
Avoid touching your face.
Walk and roll in non-crowded places to maintain physical distance.
For more information, visit the Alameda County Public Health Department.

Fall and Winter Walking and Rolling Reminders
Colder weather doesn't have to mean being less active! On most days, the weather is mild enough to walk and bike outside. Dressing properly with layers and bright clothing can extend walking and rolling into fall and winter. Here are a few tips for cooler weather days:
Remember that it's hard for people driving to see people dressed in dark colors. Always assume drivers cannot see you, or are not paying attention. Wearing bright or reflective colors can help.
Wear waterproof rain gear if it's raining! And don't forget your umbrella and rain boots.
Dress in layers – it will help warm you up quickly when walking and riding.
Wear hats, hoods, or headbands to cover the neck and ears (under the helmet when biking) and full-fingered gloves. If the weather is windy, wear a wind-proof jacket.
If you are a parent riding a bike with your child, make sure to ride slower. The roads may be slick, and you may need to brake sooner.