Alameda County BikeMobile
Virtual BikeMobile presentations cover topics related to bike maintenance, choosing a bike, and securing your bike. The online classroom presentation series consists of three topics:
ABC Quick Check & Equipment

– Learn the five-minute safety check you should complete before every ride, and what basic equipment to bring with you.

Bike Types, Selection, & Fit

–  Learn the pros and cons of four main types of bikes, how to pick the best bike for your needs, and how to adjust your seat height for a proper fit. 

Lock up Your Bike

– Learn how to avoid the three common mistakes that often result in a stolen bike. 

Flat Tire Repair

– Learn how to change a flat tire. This is an advanced lesson best suited for an audience who already has a little experience with bicycle maintenance. 
This activity is best suited for students age 10+.
Presentation details:
Session length:

25 minutes with up to 15 minutes for Q&A
Number of students/classes that can be accommodated at once:

One class per presentation
Number of classes that can be booked at one school per day:

School may schedule 3-6 lessons in one day
Active movement component:

The BikeMobile does not have an existing Active Element curriculum for PE classes. However, we are happy to co-create an Active Element in partnership with the school's PE program.
Technology requirements:

Zoom or school's preferred technology
To book, please check the calendar for available (empty) dates, then fill out the Virtual BikeMobile Request Form.
In-Person BikeMobile Visits
While BikeMobile visits aren't an option during Shelter-in-Place, we hope they'll return soon. Here's how they work:
The BikeMobile (BMB) is a mobile bicycle repair clinic that offers schools, community organizations, and public events in Alameda County free bike repair services, and bike mechanics & safety education. We offer this resource to the public through the Alameda County Safe Routes to Schools program, focusing primarily on families from low-income communities. We have found that up to 50% of Alameda County's students do not ride their bikes due to minor issues, such as a flat tire or worn out brakes. BMB addresses this problem by bringing mechanics to them!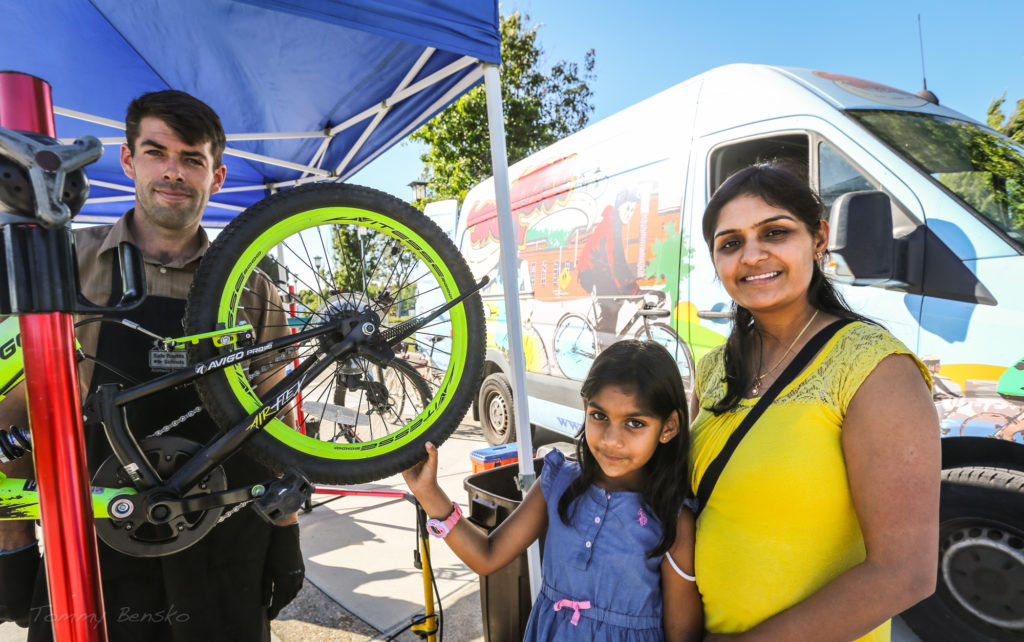 The Alameda County BikeMobile program is funded by the Alameda County Transportation Commission.
How to request a visit
The BikeMobile is a free service that focuses on serving youth and families in Alameda County. Each visit lasts between 2-4 hours, and we can fix between 10-40 bikes per visit, including fixing flat tires, adjust brakes and gears, and replacing old chains, seats, and tires. Schedule us to join an existing event or make us the main attraction!
Minimum Requirements
Permission from principal or director
Space requirements: a 20×20 ft. space available for the BikeMobile to park
A point-of-contact available to assist with intake in the first hour of the visit
A person able to promote the visit at the school or organization
At least 10 people must be signed-up to participate 48 hours in advance of a BikeMobile visit. Note that if this requirement is unmet, the visit may be cancelled.
To ensure that youth and families maximize their opportunity to learn about bicycle repair, all visits occurring during school hours will be scheduled to take place at 11 AM or later.
Follow the six easy steps below to schedule your visit:
Step 1:
Check for Eligibility
Make sure your event meets the minimum requirements.
Step 2:
Find a perfect available date.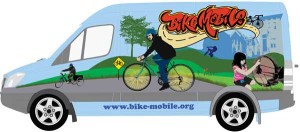 Now that your event has been scheduled, use these materials to help you get the word out and get organized:
Step 5:
Prepare
Step 6:
Intake
Appoint someone to help BMB with intake for the first hour of the visit
If a person can stay during the entire visit, they can help set-up and clean-up
After the visit, BikeMobile will contact you with a post-event survey link asking you to respond with feedback within 1 week of the event. Support your local bike shops by downloading this list of bike shops in Alameda County.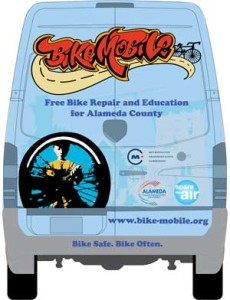 We kindly remind everyone that California state law requires all bicyclists under the age of 18 to wear a helmet.
Note for School Visits: We cannot repair bikes not belonging to guardians or school staff.
Note for Public Events: We prioritize youth and parent bikes, if there is a high demand. However, our educational services are open to everyone, even for those without a bike.
Calendar
* Indicates that event is private and closed to the public.