Equity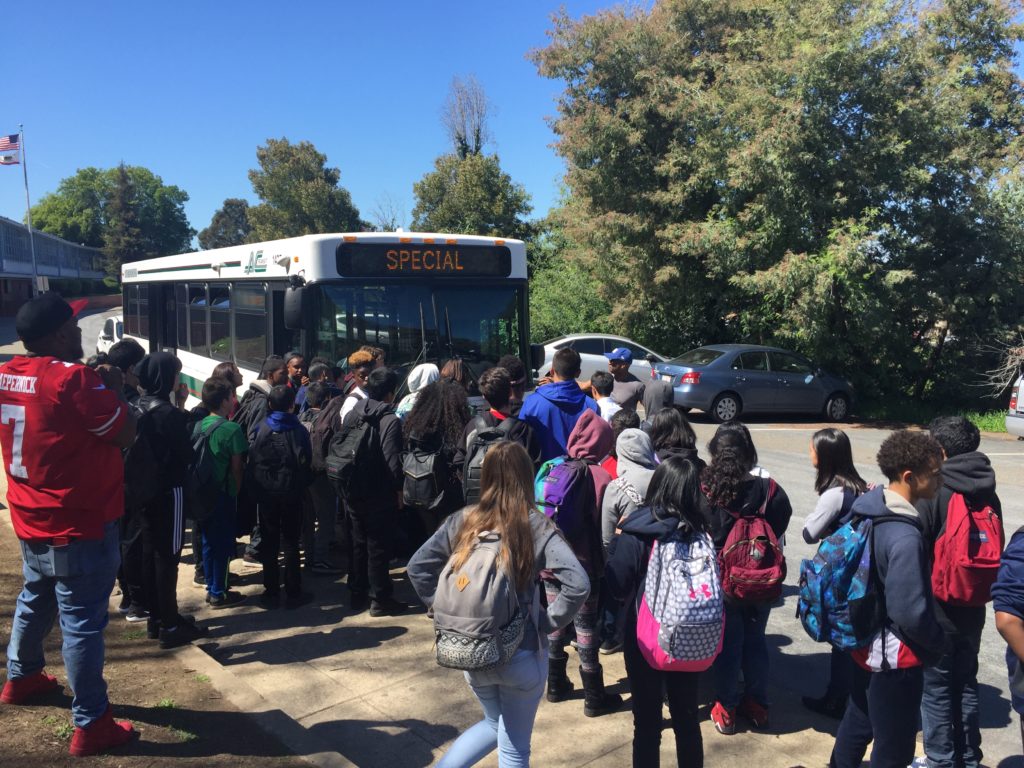 Access Safe Routes
Understanding the impact of the transition from site coordinator-led to school-led implementation on under-resourced schools is the nexus for this pilot program. Students in under-resourced schools stand to benefit greatly from tailored SR2S programs since they are often disproportionately impacted by the typical barriers for access to safe active and shared transportation options.
The Alameda County SR2S Access Safe Routes Pilot Program recognizes the competing demands and the need for additional support at under-resourced schools. Access Safe Routes will provide a process to understand and address their unique needs by developing tailored SR2S action plans and identifying and implementing context-sensitive SR2S strategies to help these schools achieve SR2S success.
Program Goals
The goals of the Access Safe Routes Pilot Program are:
1. To encourage greater participation by under-resourced schools in the SR2S program in the near term.
2. To understand how to build sustainable programs at under-resourced schools in the long term.
3. To deepen our understanding of effective methods and strategies to engage with and get results in under-resourced schools.
To achieve these goals, the program will provide targeted support to under-resourced schools in exchange for input and engagement from the school that will help inform our short- and long-term efforts to develop the culture and infrastructure necessary to maximize use of active and shared transportation modes for school-related travel.
Program Objectives
Access Safe Routes has three key objectives:
1. Maintain or increase the current participation level of under-resourced schools currently participating in Alameda County's SR2S program. As the Alameda SR2S program transitions from site coordinator-led programs to sustained, school-led programs, the participation of under-resourced schools must be assessed to determine each school's capacity to continue without significant site coordinator support. A school-specific assessment and maintenance plan for future school-led efforts will be developed for each school.
2. Develop context-sensitive plans to encourage and promote SR2S participation in under-resourced schools. Alameda County SR2S site coordinators will work with school and community stakeholders to identify the unique circumstances that affect students' safe use of active and shared modes, determine which modes may have the most viability for that school, and facilitate planning of a tailored approach to addressing the schools' needs. While some schools may be able to focus on shifting or increasing mode share to active and shared modes, others may need to address infrastructure and safety training needs or other related safety concerns. Effort will also be spent assessing and building the leadership capacity of the school community to carry a SR2S program with minimal site coordinator support. It will be important for site coordinators to be able to respond in a context- and culturally-sensitive manner to each school community.
3. Provide broader recommendations for how under-resourced schools can participate fully in the SR2S program. While providing a tailored approach that is context-sensitive for each school will be critical to the success of the Access Safe Routes Pilot Program, this pilot also will seek to identify broader recommendations for involving under-resourced schools moving forward.
Site coordinators will facilitate the development of each school's short-term and long-term goals and school-specific program recommendations. The recommendations will likely draw upon services provided across all three Alameda County SR2S contracts.