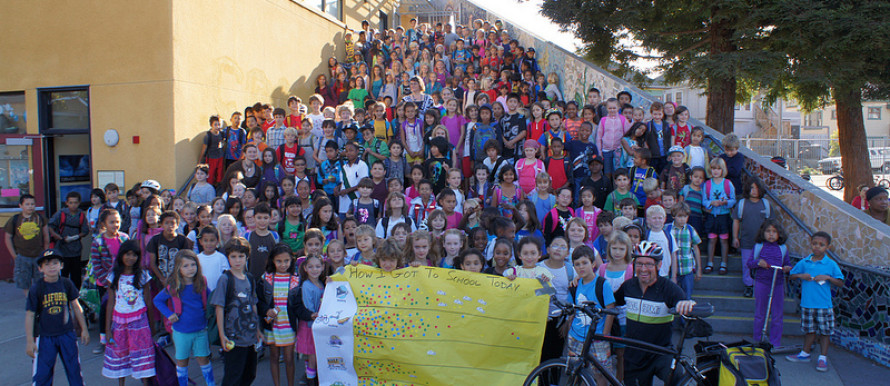 October 10, 2018 marks International Walk and Roll to School Day (IWR2SD), an annual event held by schools across Alameda County—and the world—that encourages students, families, and the school community to walk, bicycle, or use other non-motorized transportation to get to school.
This is an excellent opportunity to make streets safer and reduce traffic congestion near schools, improve air quality, and celebrate the school's community spirit, which can continue throughout the year by celebrating a Walk and Roll to School Day once a month, every week or every day!
Whether you're new to IWR2SD or it's a tradition at your school, we have many tools available to help make your event a success.
Check out our 2018 Toolkit with tips and resources!
Media Opportunities
Albany: Ocean View Elementary, 8:00–8:30 a.m., Mayor Peggy McQuaid will be joining parents to greet students who are walking and rolling to school.
Fremont: Leitch Elementary, 7:50 a.m. Leitch will be organizing a walking school bus the morning of the event in addition to the Walk and Roll fun at the school. School Board Member Desrie Campbell will be joining.
Hayward: Cherryland Elementary, beginning at 7:30 a.m., Cherryland Elementary is partnering with Safe Kids Alameda County and FedEx. FedEx will set up one of their trucks and give tours to students to educate them about vehicle safety.
Livermore: Rancho Las Positas Elementary, 8:00–8:30 a.m., Superintendent Kelly Bowers will join parents and the Rancho Racoon to greet students walking and rolling to school.
Newark: John F. Kennedy Elementary School, 7:30–8:15 a.m., Mayor Alan Nagy will be participating in the Walk and Roll festivities.
Oakland: Encompas Academy, 8:00-8:30 a.m., the Oakland Police Department and the Scraper Bike Team will be on site welcoming students who are walking and rolling to school.
Pleasanton: Fairlands Elementary, 8:45–9:15 a.m., Supervisor Nate Miley's staff will visit Fairlands Elementary and help students put stickers on the mode chart to show how they arrived at school.
San Leandro: Jefferson Elementary, 7:30–8:15 a.m. City Councilmember Ed Hernandez will welcome students as they arrive to school.
Walking & Rolling Safety Tips
Here are some tips to keep in mind as you continue to walk and roll to school this fall and beyond:
Daylight Savings Safety Tips
Whether you walk or bike, wear light and bright colors and reflective or blinking lights if possible. They are easier to see and make you more visible to other people using the road. When driving, remember that kids move in unpredictable ways, so keep both hands on the wheel and drive slowly in school zones.
Winter Walking and Rolling Reminders
Winter doesn't have to mean being less active! On most days, the weather is mild enough for children to walk and bike to school. Make sure your child dresses properly with bright clothing and layers.
Here are a few tips for cold days:
1. Wear bright colors.
2. Make sure your child has waterproof rain gear.
3. Dress in layers – you warm up quickly when walking and riding.
4. Wear hats, hoods, or headbands to cover the neck and ears (under the helmet when biking).
5. Carry an umbrella and wear rain boots.
6. Wear full-fingered gloves.
7. Wear a wind-proof jacket.
8. When riding a bike with your child, make sure to ride slower. The roads may be slick, and you may need to brake sooner.