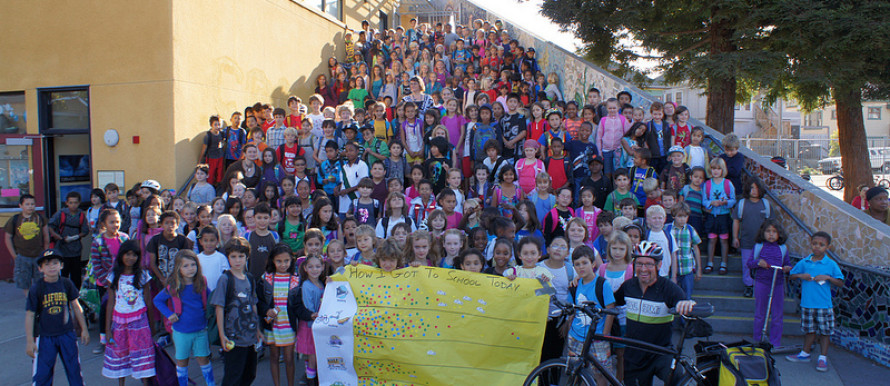 The first Wednesday of October marks International Walk & Roll to School Day, with millions of children across the world celebrating walking and rolling to school throughout the week. In Alameda County, we've grown the event to include students who bike, scooter, or skate to school too.
Alameda County Safe Routes to Schools ensures that cities and schools throughout Alameda County are on the map for this international celebration by providing tools, trainings, materials, banners and prizes for any school interested in participating. This activity is an excellent kick-off activity for a year-round Safe Routes campaign in your school.
Daylight Savings Safety Tip
Whether you walk or bike, wear light and bright colors and reflective or blinking lights if possible. They are easier to see and make you more visible to other people using the road.  When driving, remember that kids move in unpredictable ways, keep both hands on the wheel and drive slowly in school zones.
Winter Walking and Rolling Reminders:
Winter doesn't have to mean being less active! On most days, the weather is mild enough for children to walk and bike to school.  Make sure your child dresses properly with bright clothing and layers.
Here are a few tips for cold days:
1. Wear bright colors.
2. Make sure your child has waterproof rain gear.
3. Dress in layers; you warm up quickly when walking and riding.
4. Wear hats, hoods, or headbands to cover the neck and ears (under the helmet too when biking).
5. Carry umbrellas and wear rain boots.
6. Wear full-fingered gloves.
7. Wear a wind-proof jacket.
8. When riding a bike with your child, make sure to ride slower. The roads may be slick and you may need to brake sooner.