BikeMobile
In-Person BikeMobile Visits
Once a bike breaks down, it may go unridden for months or years. That's where we come in. The BikeMobile's hands-on bike repair clinics help people get back on their bikes and learn valuable maintenance skills. Whether it's fixing a flat, tuning up brakes, or oiling a rusty chain, our mechanics will keep you rolling with a smile. Our clinics are great for all ages, and are available to schools, community organizations, and family friendly public events. Invite us to join an existing event or make us the main attraction!
Or download the Spanish form and email it to bikemobile@alamedacountysr2s.org.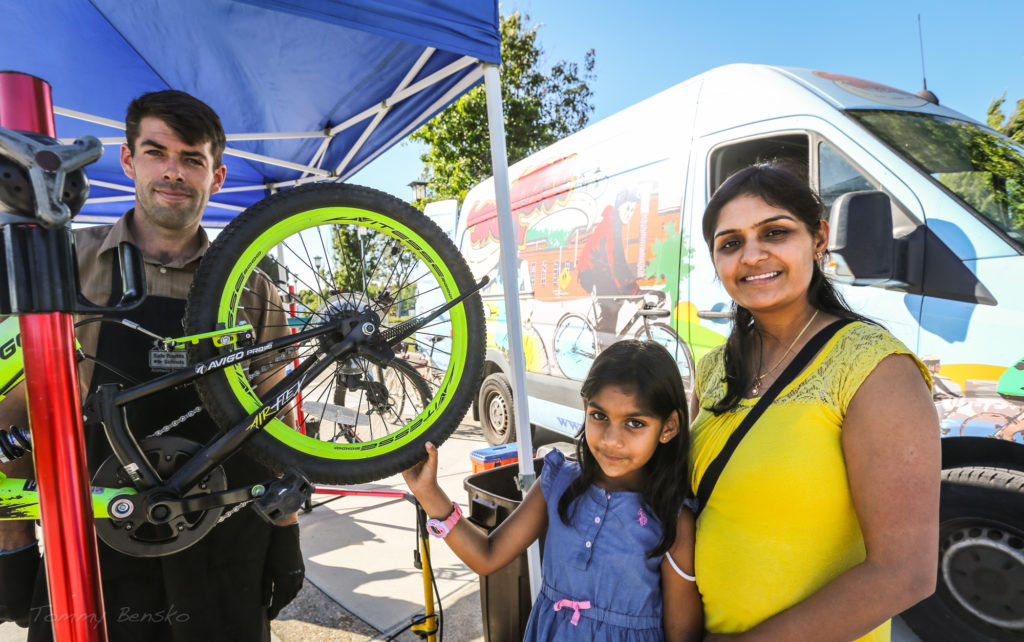 The Alameda County BikeMobile program is funded by the Alameda County Transportation Commission.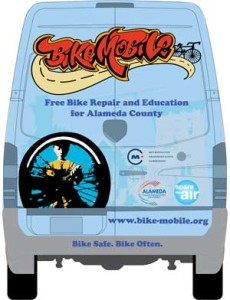 We kindly remind everyone that California state law requires all bicyclists under the age of 18 to wear a helmet.Note for School Visits: We cannot repair bikes not belonging to guardians or school staff.
Note for Public Events: If there is high demand, we prioritize repairing youth bikes. Educational services are open to everyone, even for those without a bike.
Download this list of bike shops in Alameda County and support your local bike shop.
BikeMobile Virtual Presentations
Virtual BikeMobile presentations are interactive and cover topics about bike ownership and maintenance.
1) Bikes Are Awesome – There are so many different cool bikes! We explain the pros and cons of each type and showcase some creative bike inventions. (K-8th grade)
2) Theft Prevention – Getting a bike stolen is no fun! Avoid these three common mistakes to protect your bike from theft. (4th-8th grade)
3) ABC Bike Check & Equipment – Prevent unexpected breakdowns! Learn how to check your Air, Brakes, and Chain before every ride. (4th-8th grade)
4) Flat Tire Repair – Learn how to diagnose the cause of a flat and patch your tube. (5th-8th grade)
Scheduling Details:
Schedule any time of day, for synchronous or asynchronous classes.
The minimum commitment is hosting 1 lesson. We can also provide multiple lessons, as a mini-series.
Our presentations fit well into PE classes, assemblies, and home rooms.
Session length: 25 minutes plus time for Q&A. Timing can be tailored to fit your schedule.